Exhibitions
CURRENT EXHIBITIONS
MUD WORKS MMXVII
February 9- March 2 | opening reception February 9, 6:00-8:30 pm

an exhibition of 50 ceramic artists in conjunction with the
Ceramic Research Center at ASU Art Museum
---
Confluence of Energy
Laura Cohen-Hogan
October 27-November 29, 2016

Metal Works
 

   September 15 – November 10, 2016
Opening Reception September 15, 2016  |  6:00 – 8:00
Juried by Jeff Zischke
---
      ARIZONA OUTDOOR SCULPTURE SHOWCASE
    
On display from November 1, 2015 – November 1, 2017, this exhibition shows the beautiful artwork of the artists selected during this outdoor exhibit competition.  All works of art are on display for two years… or until they sell!
UPCOMING EXHIBITIONS
Barbara Bagan | solo show | opening reception September 22, 2016 | 6:00 – 8:00
22 x 30 Exhibition

 

| November 17 – January 17, 2017

  Fifteen artists from the 22×30 watercolor critique group will display their creativity during this exhibition.  The 22×30 group was founded in 1972 by three of the Valley's most prominent artists at the time: Robert Oliver, Jason Williamson and Dick Philips.  From the original three the group has group to fifteen artists.

The group has taken their name from the size of a sheet of watercolor paper:  22-by-30 inches.  

22 X 30 is the oldest critique group in Arizona

Many of the members are nationally and internationally known artists.  Several of the members are authors of  magazine articles and books. Others are instructors and give workshops locally and nationally.  The group meets monthly to critique, discuss art and encourage one another on their artist journey.  This show will feature a variety of works including abstracts, landscapes, florals, traditional watercolors and geometric graphics.
PREVIOUS EXHIBITIONS
SHEMER ART CENTER AT PHOENIX CITY HALL!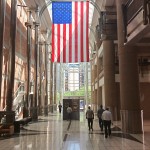 The Shemer Art Center was proud to have the opportunity to showcase our 2016 New Horizons High School Student Art Exhibition scholarship winners at Phoenix City Hall, along with the 30th Anniversary Portfolio of our instructor and renowned Arizona artist Agustin Vargas.  The works of art created by our 2016 high school student artists were on display at the Shemer Art Center from January 14 – March 3.  This marked the first time artwork from the Shemer Art Center was displayed at Phoenix City Hall, and 2016 marked the 30th year this exhibit was held at the Shemer Art Center.  The prints by Agustin Vargas were also on display on the 11th Floor, near Councilman DiCiccio's office, and then moved down for a second lobby showing from May 23 – June 8.  
Annual Instructor & Student Exhibition |  August 11 – September 8, 2016
Reflections of Arizona 

 |  June 23 – August 4, 2016
ALL AZ CLAY –  AZ Clay Association Exhibition 

 |  May 5 – June 16, 2016
Calle Urbana by Solo Artist: Ann Osgood |

April 18

 – May 27, 2016
New Art Arizona

| 

March 17 – April 28, 2016
Outsider Art Exhibition by Solo Artist: Kurt von Berhrman |

Feb. 4 – Mar. 10, 2016
New Horizons High School Student Art Exhibition

| January 14 – March 3, 2016
 Wintertide 

| November 26 – December 31, 2015
Aesthetic Alchemy
| October 22 – November 19, 2015
Terrestrial Wood

| September 17 – October 15, 2015
Shemer Student Biennial + 1 | August 13 – September 10, 2015
EYE 2 EYE – Eye Lounge Collaborates

| June 25 – August 6, 2015