Named "One of the 10 Best Museums in Phoenix" by USA Today and
"One of Phoenix's 10 Best-Kept Secrets" by The Culture Trip

Location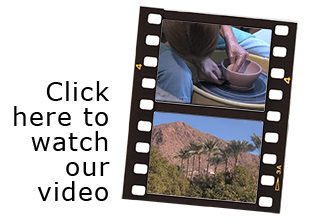 The Shemer Art Center and Museum is located at the southeast corner of Camelback Road and East Arcadia Lane (48th Street) in Phoenix. Set at the base of Camelback Mountain, the site offers panoramic views of the beautiful Arcadia neighborhood, framed by a touch of nostalgia.
History
In 1919, developers led by Seymour Jordan formed the Arcadia Water Company and began drilling wells with the intent to sell home sites in the newly named Arcadia neighborhood.  To house the foreman of the water company, the first home in Arcadia was built.
In July 1984, long-time Phoenix resident and real estate investor Martha Evvard Shemer purchased the twice-renovated, Sante-Fe mission-style home and land.  Working with Mayor Terry Goddard, Mrs. Shemer donated the home to the City of Phoenix, not only to preserve the historical property but to also ensure it was used as a community center for city residents.
Today
Today, the Shemer Art Center has become a cultural center for all ages.  It is a "home for the arts" that provides a unique and inviting atmosphere for residents and visitors to enjoy and learn about visual art, through fun and affordable classes, lectures, workshops, exhibits and events. 
Areas of instruction offered year-round by professional teaching artists include drawing, painting, print making, sculpture, ceramics, fused glass, mixed media, photography and jewelry-making.  Additional features of the Shemer Art Center include a boutique gift shop plus an outdoor sculpture garden, both featuring beautiful, one-of-a-kind works of art created by some of Arizona's most talented artists, for viewing and for sale.

ADMISSION
  Free    (Suggested Donation of $7/person, $10/couple)
HOURS
10 a.m. – 3 p.m.  Tuesday-Saturday
SOUTHWEST MICROLIVING EVENT:  Open 10 a.m. – 4 p.m.
    Saturday & Sunday, March 11 & 12
    Saturday & Sunday, March 18 & 19